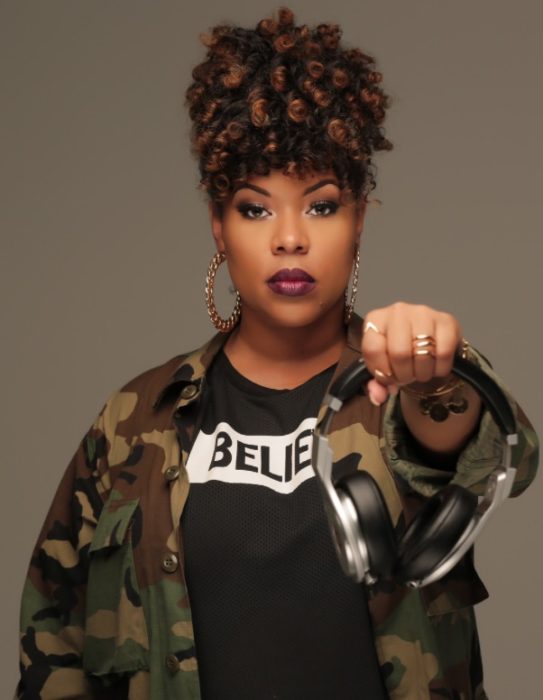 This Is Ms. Jessica…
Sugar, spice, and everything nice, that's what makes up Ms. Jessica "The Girl Next Door".  Born in "The Big Easy" New Orleans, LA, and raised in Virginia Beach, VA, Ms. Jessica's high energy, infectious personality, and bubbly voice comes through every time she touches a microphone. 
Ms. Jessica ventured into the world of radio as a college student majoring in Communication Arts at Johnson C. Smith University.  It was then, she began as an intern at Charlotte's top rated Power 98 (WPEG FM) on the "Afternoon Zoo Crew" with the late Nate Quick and "The Battleground" with No Limit Larry.  Two short years later, on the morning of her college graduation ceremony, the "intern" title changed to "on air personality" as she hosted her first radio show from 2am – 6am!
Ms. Jessica  outgoing persona has afforded her the opportunity to interview numerous celebrities such as Ludacris, Mary J. Blige, Rick Ross, and Miguel, just to name a few.  In 2010, she served as the "On Court Host" for the Central Intercollegiate Athletic Association (CIAA) Basketball Tournament and was featured on the cover of Charlotte's Creative Loafing Magazine.  She has also hosted events for Johnson C. Smith University, the University of North Carolina at Charlotte, Distrurbing the Peace Records, Charlotte Mayor, Anthony Foxx, and The Charlotte Bobcats.
In addition to her radio career, Ms. Jessica fulfills one of her deepest passions by creating and developing innovative programs for local youth.  One of her programs, "Creating a Usable Past", received national attention.  It taught teens about the Civil Rights Movement and took them on a 7 day tour of major Civil Rights landmarks, including The Lorraine Museum, Fisk University, and the birth home of Dr. Martin Luther King, Jr.  Another one of Ms. Jessica's programs raised over $2,000 to support youth from low income families during the holiday season.  In 2009, Ms. Jessica received a MeckCares Honor from Mecklenburg County for Family Driven and Youth Guided Collaborations and she received the Communities In Schools "Above and Beyond Award" in 2013 and 2015.  Ms. Jessica is also a member of Delta Sigma Theta Sorority, Incorporated and volunteers with various youth organizations.  This work keeps her very connected in the Charlotte community and surrounding areas.
"I feel so blessed to have a career that allows me to impact the community and entertain our listeners.  I am truly living my purpose!"  Ms. Jessica can be heard on Power 98 Monday-Friday from 5:50-10am on The Morning Maddhouse, but her presence can be felt all over the Carolinas!
"Young people today live in a troubling world with so many societal pressures they are trying to navigate. 
The radiant, inspiring, and dynamic – Ms. Jessica – offers purposeful conversation on the yearnings,
expressions, and challenges that youth and young adults encounter everyday.  Ms. Jessica leads a
boundless and insightful discussion, capturing audiences of all ages." 
-Sherry Waters, The Koinoiah Magazine